In 2023, the global video game market will grow by +2,6%, reaching $187,7 billion in revenue despite economic challenges. This growth, however, is slower than previous years, mainly due to the monetization and user acquisition issues that mobile publishers face, due to Apple and Google's policies.
The mobile segment, although growing by +0,8%, is below previous rates due to these challenges. However, the growth of emerging markets and the strong performance of blockbuster titles guarantee some growth. Mobile games still account for half of consumer spending.
The console segment, generating $56,1 billion in 2023, recorded growth of +7,4%. Although it suffered from delays in 2022, many major titles planned for previous years are now launching, including blockbusters like "Hogwarts Legacy," "The Legend of Zelda: Tears of the Kingdom" and "Final Fantasy XVI. Titles such as "Marvel's Spider-Man 2" or "Forza Motorsport" are also expected. Annual third-party heavyweights like "Call of Duty," "EA Sports FC" (formerly FIFA) and a new "Assassin's Creed" will further boost revenue in 2023, and we're not talking about Starfield… Live services like "Fortnite" » and "Rocket League" will continue to monetize players through their seasonal content.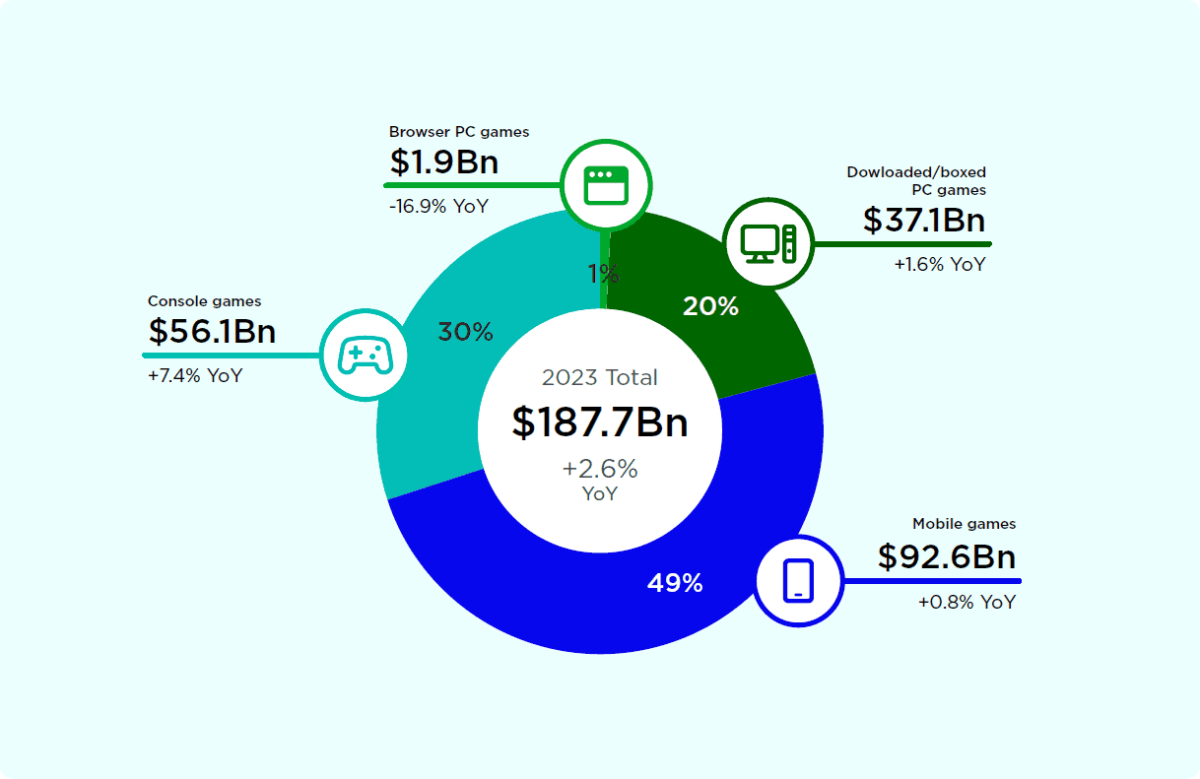 The PC segment will see marginal growth of +0,5%, reaching $39,1 billion. Although it has had hits such as "Hogwarts Legacy", it has not benefited as much from third-party titles as consoles have. Additionally, less optimized ports have prompted some players to opt for the console versions. Temporary exclusives and co-marketing deals have also shifted revenue to consoles.
Looking at the regional breakdown, the West is showing strong growth in console gaming, with revenue increasing by +3,8% in North America ($51,6 billion) and +3,2 % in Europe ($34,4 billion). Together, these regions account for 46% of global revenues in 2023. Growing markets, such as the Middle East (+6,9%) and Latin America (+4,3%), will continue to grow despite challenges privacy issues related to mobile games. This growth is due to improved mobile internet infrastructure, more affordable access to the internet, availability of low-cost games, and an increase in smartphone users.
Despite the challenges, the global video games market remains robust in 2023, with consoles leading revenue growth. To know more, you can download the free version of Newzoo's report on the global video games market August 2023.