And this title has a double meaning. On the one hand we have the tractor, the John Deere 8960-70 which date from the 90s, and on the other hand we have the mod itself, which has been lying around since Farming Simulator 15.
Machines
My opinion is rather mixed on this mod. The modeling itself, despite being identical to the FS15 version, is not bad. It must be said that this series of John Deere has a design closer to a brick than a bottle of Orangina. The textures are more than simple since only a sticker on the hood and the green color decorate our machine. The sound is, it seems, faithful to what thewe can hear on Youtube videos displaying the monster. 2 models are provided in this mod: an 8960 and an 8970. The difference is played under the hood, and the larger model spits out its 400 HP.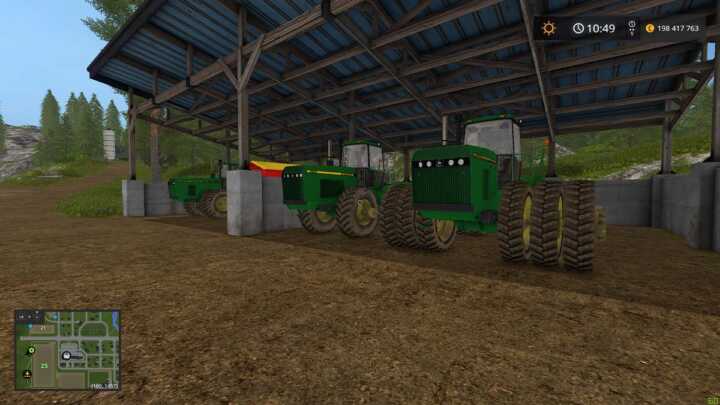 Substantial power that leaves room for the biggest tools… well almost. One of the characteristics that will put off more than one is that we are in the presence of an articulated tractor. Another feature, the range does not have any linkage. Removing the possibility of using a good number of tools. Pity.
The wheel configuration is complete: single, double, triple, large width. Everything is there to style the green giant to your liking. Finally the IC is available but only for windows, we would have liked more to really differentiate ourselves from the other 8960-70 available in mod.
Fatherhood
There remains one question that torments me. Who is the original author of this mod? I would like to credit him so much. The version tested here is the one found on the Custom Modding Facebook page at a post published on release this October 18. If the scripting is well by this team, the original modeling is much older. If you have any idea, feel free to comment on this post a bit further down, I'll update it. In the meantime, if you are fans of big stuff, it's by here that it happens.
To get used to green
An articulated tractor without lifting, with a too simple IC, a model pumped from who knows where. Too many shadows on the board to start off on a good basis. The wheel set-up and overall graphics quality uplift the note a bit, pending the real John Deere from Farming Simulator 19.